As the title of the post says, you will earn 50 dollars in crypto. I recently discovered crypto.com, previously known as Monaco. At first, I thought it was a scam, but after I received my 50 $ I was convinced that I did a good thing. So let's get started with the story. Recently Instagram ads started showing me this company called "crypto.com", so I decided to investigate it. As much as I can understand, crypto.com is a cryptocurrency and payment platform encompassing a range of products aimed at promoting the adoption of cryptocurrencies in daily things (e.g. buying groceries or online shopping. Simply said instead of using your current credit/debit card, you use their platform to do so. But online so many banks, they offer great cashback. With the lowest tier card, you can get 1% back on all your shopping with the card and with the highest tier card you get 5% back. To put this in perspective, if you spend each month $400 on shopping that will be annualized to $4800, and 1% of that is $48. If you chose the highest tier you would be saving $240 every year, just by shopping with the crypto card. Other benefits include free Netflix and Spotify, discounts on AirBnB and more.
But how do you get $50 free, well it required some investing? You have to join crypto.com with a referral link (Use my referral LINK to sign up for Crypto.com and we both get $50 USD :)) and then you get $50 but they are locked). Then you need to invest 35 MCO, this means you have to buy 35 Monaco Coins and you can then select the Rec Card as your main card. This means you invest 50 MCO for 180 days to get the card. If you are low on cash and cannot live without 120-150$ for 6 months, then you should not invest here. Since I am following the path where I invest 300$ every month in stocks, credits, and crypto, I feel that I can invest here.
What does this potentially mean for someone who invests? Well with the crypto gaining momentum due to the recession signs, you could potentially grow your 50 MCO to much more MCOs. Since you received the $50 at the start of those 180 days, you have a buffer of $50, where your investment is safe. In my opinion, I like this offer because of the cashback of the card, the vision of the company and the state of cryptos nowadays.
Besides these benefits, they also offer a 10% for sending crypto from your crypto.com account to a friends crypto.com account, but it is limited to earning $5 per month.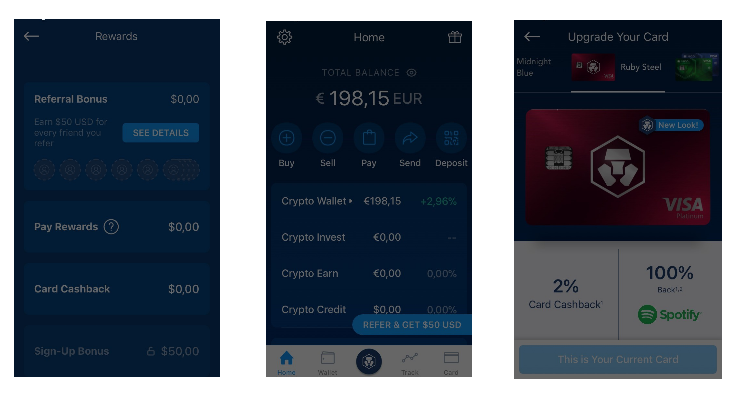 To give you an overview of the money you can make with using crypto.com offers. First, you get $50 if you register with an affiliate code and buy 50 MCOs, then you get 1-5% cashback for your shopping (this ranges from $48-$240 if you spend $4800 on shopping each year), you also save on Spotify and Netflix each month ($20) and last you have the 10% cashback for sending money to a friend (limited to $5 each month. When you add that together you save a lot of money by simply using their service.
Also one important fact about crypto.com is that "Crypto.com is one of the first cryptocurrency companies to Achieve ISO/IEC 27001:2013 Certification, the "Gold Standard" certification for information security management" - Source
Now to switch to the bad sides of this deal, I am not able to withdraw the money to my bank account. The only way to withdraw money is when you receive the card and use it at an ATM. The app is quite great, but the amount of information is sometimes overwhelming.
My Referral Link is HERE
The Referral code is jhc8nw9u5z
---
Disclaimer:
This is not financial advice.
I am not a financial advisor.
The intention of the post is just to share my experiences.
eToro Disclaimer
: "66% of Retail CFD Accounts Lose Money
Join
celsius
Network using my referral code 192188355b when signing up and earn $20 in BTC with your first transfer of $200 or more!