I decided this year that I will educate myself in the area of passive income and find ways to achieve a level of passive income. Like all newbies, I thought that investing in the stock market will make me some money. Since I did not have any trading experience I started reading different books about it to educate myself. The first book that I read was "How to Day Trade for a Living", this one talked about how to live as a day trader. In my mind that was not passive income, day traders work a lot to become successful and profitable. I wanted to find a better way to be successful in the stock market area. That is why I started to do swing trading, but even here you have to invest a lot of time to be positive and productive. You have to read every day about trades, do technical analysis and put time and effort into it. But compared to day trading it was a nice compromise. Then I discovered the holy grail of stocks and investments, "The Intelligent Investor ". Here is where I learned about value investing, which was for me the best way to go. Because I wanted to invest in something that I believe and get rich slow, through dividend payments and increase of stock price.
Since I was greedy I also wanted to make money every day and hade the fear of missing out if I only invested once and waited a year or 10 to see my results. This is when I discovered eToro and copy trading. You invest your money in someone who is profitable and in whom you believe will make money. I found a couple of interesting individuals and I invested money. Which made me money in the first months. Then I wanted to be more proactive and invested more money in companies which I thought were quite stable, lost $200 over 3 months, because of the USA and China trade war. But I invested in good companies, which I believe will recover.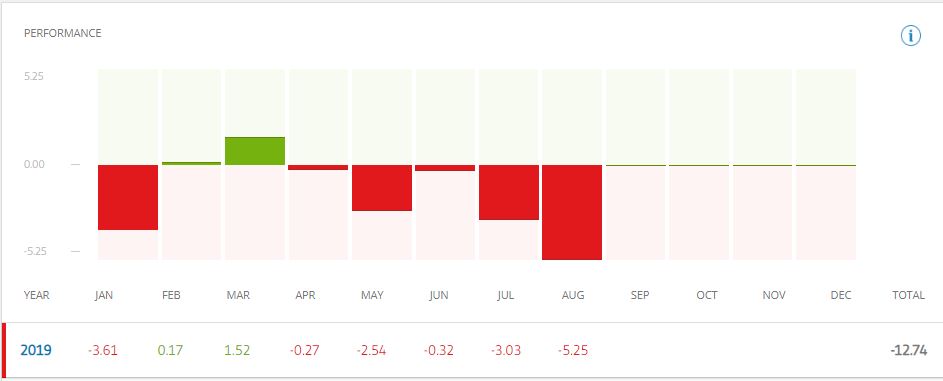 As you can see on this blog, I am quite into P2P investing. So I opened a Bondora and Mintos account (which give you a 12% return yearly) and invested $700. This worked out quite nice, with the two providers bringing me more and more money every month. With $700 I earned $5 over 2 months, which will be $60 in a year.
In the case that you want to join Bondora and Mintos, you can recieve a cashback if you join via my affiliate links. For now I think I will redistribute my monthly investments in a way that I put €200 into P2P projects and €100 into eToro. This way I will have a better risk distribution and in a matter of 4-5 months I will have the same amount in P2P as in Stocks.
Besides that one new project that I want to start is phone farming, the first steps will be to get a old android phone and set it up with phone farming apps that work in the EU. One page that I found is RadioEarn. The trick here is that you collect points for listening to the radio. With one device you can earn 0.25 Points for 15 minutes of listening to radio and you can listen with 4 different devices at the same time. This means you can produce 4 points per hour and you need 1000 to redem it for money. This means you need to have the radio open for 10 days to earn 1000 points with 4 devices. The goal of the phone farm is to generate some income that I could use to invest into P2P and stocks.
If you have any questions write a comment and I will try to get back to you.
---
Disclaimer:
This is not financial advice.
I am not a financial advisor.
The intention of the post is just to share my experiences.
eToro Disclaimer
: "66% of Retail CFD Accounts Lose Money
Join
celsius
Network using my referral code 192188355b when signing up and earn $20 in BTC with your first transfer of $200 or more!