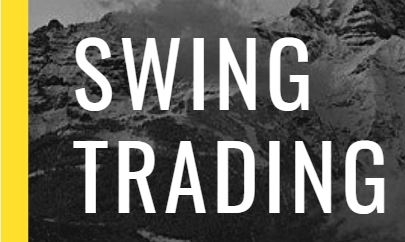 What is swing trading? I am sure that a lot of you have heard the term swing trading. For me it is a cool trading strategy, where you take advantages when the market is changing direction. Unlike day trading, where you do not want to keep the stock at the end of the day, with swing trading you hold the stock for a extended period (usually 5 - 20 days, or even more).
Why is it so appealing? It can be a side hustle, because you can invest 30 minutes to 1 hour in the evening to find stocks in play for that week. Then you set your opening order, stop loss and take. When the market opens you interpret what is happening with the stocks and you determine if you want to buy them.
I usually find a stock that had a significant loss due to some report or a stock where the uptrend is visible. When I have interesting stocks, I try to read a bit about the situation. This helps me filter out the goods from the bads.
If you look at the stock graph below, it is visible that the stock has some level of support when it is good to buy it and some level of resistance when one should sell it.

If we focus on a smaller period it is visible that you can make money by buying the stock when it reaches the red line and selling it when it is near the green line. Also, it is noticeable that the stock has a swinging behavior, it is going from a high to a low and vice versa. This is why this type of trading is called swing trading. Because you are trying to take advantage of the swing of the stock price.

If you access Coinbase via my referral Link and register, you will get 8 Euros for your registration after you buy or sell at least 88.45 Euros. So you can open an account, invest 89 Euros, get your 8 Euros and invest them risk free into XRP.
---
Disclaimer:
This is not financial advice.
I am not a financial advisor.
The intention of the post is just to share my experiences.
eToro Disclaimer
: "66% of Retail CFD Accounts Lose Money
Join
celsius
Network using my referral code 192188355b when signing up and earn $20 in BTC with your first transfer of $200 or more!