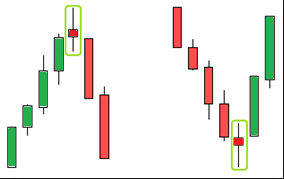 Candlestick pattern trading is a strategy that requires technical analysis and continuous watch of the markets. The trader is able to take advantage of a series of short-term price moves in the trading market.
This strategy requires a trader to quite frequently monitor swings in the market and watch for bullish and bearish movements.    Swing traders will monitor ongoing chart patterns and this involves the use of candlestick patterns to calculate the reversal of a swing.  
One of the most common forms of candle patterns to watch out for is the candlestick reversal pattern or spinning top. This is where the candlestick pattern begins to resemble a smaller body with longer tails. This represents more than indecision or volatility through a period in the market. This volatility can signal the start of a trend change especially when 2 to 3 of the smaller candlestick patterns appear together. This is the perfect indication of a bullish or bearish marketplace or a significant move of a stock in one direction or another. The spinnig top candlestick patterns can be seen on the image bellow. The bearish pattern on the left and the bullish on the right.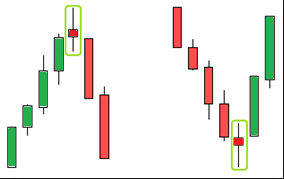 Once a trader can consistently monitor the market and identify the best place for swing trades they can start using them together to manage their stop loss. If a trader seems to think that the asset is going to swing high they can place a stop loss above the most recent high swing for that asset. If a trader thinks that the markets going to move to a lower position they choose the most recent low position for that asset and place a stop loss on it at that level.  
With this type of financial strategy, you can use a series of shorts or futures to continue profiting from a particular asset whether it's moving up or down. The advantage of this strategy is that no matter what the market conditions are sitting at, you can always find an asset where you could profit over the short term.  
Other popular candlestick pattern are: Pin Bar, Doji Star, Engulfing pattern and more.
If you're interested in getting started with stock trading it's important to consider strategies like this for your technical analysis in checking out candlestick patterns and other movements in the market, you can determine the strategy that works best for you and how you can start using the markets to your advantage.  
---
Disclaimer:
This is not financial advice.
I am not a financial advisor.
The intention of the post is just to share my experiences.
eToro Disclaimer
: "66% of Retail CFD Accounts Lose Money
Join
celsius
Network using my referral code 192188355b when signing up and earn $20 in BTC with your first transfer of $200 or more!