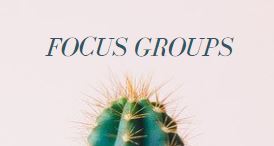 Lately, I have been searching for a way to earn some money over the weekend. So I started watching youtube to find some ways to earn additional cash. After watching some of them I found out that you could make money by participating in Focus Groups. I decided to do a little research to find companies that look for people to do paid focus groups online.
But now you think what is a focus group. A focus group is a small group of people that have been invited to share their opinions. They can be done in-person or online and are mostly used for market research. They normally involve you giving opinions and answering questions on a specific subject.
For online focus groups, you will join online via chat, on your tablet, laptop or smartphone. You will receive a link to access the focus group and there you will join the discussion and give your feedback.
So how much can I earn?
Each focus group is different, but you can expect to make from $5 to $150 per focus group. Some focus groups can pay up to $500 for one hour of your time. The payment is done via Paypal or giftcards.
How can I find focus groups?
The easiest way to find a focus group is just to google. If you want to find focus groups near you just include the name of your city. I prefer to use Respondent. Their payout is great, up to $250 per research, sometimes more. The great thing here is that they accept respondents from ALL OVER THE WORLD! All you need to join is a PayPal account, and either Facebook or LinkedIn to connect your profile to. The bad thing is the fee per survey, they charge 5% per survey. So if your payout is $100, you would get $95 to your PayPal account.
Here is how it works:
After your create and verify your account you can browse open surveys.
Then you apply to participate in one of them.
If you are a good match, you will get invited by the researcher.
If you recieve the invite, you choose a time that suits you from those made available by the researcher.
When you complete the survey you get paid via PayPal.
Conclusion
I know this is not passive income, but it is a great way to earn some additional cash to invest it. If you pick the highest paying surveys, you could be making in average $100 per hour and directly investing it into some stocks or crypto. If you want to learn how to invest in stocks or crypto read the blog posts.
---
Disclaimer:
This is not financial advice.
I am not a financial advisor.
The intention of the post is just to share my experiences.
eToro Disclaimer
: "66% of Retail CFD Accounts Lose Money
Join
celsius
Network using my referral code 192188355b when signing up and earn $20 in BTC with your first transfer of $200 or more!