The goal of this post is to introduce a different way you can earn money with Crypto.com and cryptocurrency.
What makes Crypto.com interesting is that they provide a simple service for crypto payments. Their application is simple to use and they do not have fees for Crypto trading line other platforms.
One way to earn money with Crypto.com is to use their 18% return investment fund, where you lock up 10000 CRO or 50 MCO (approx $200 worth) and watch it grow over time. The second way of making money with Crypto.com is by referring people to their service, which is how I made my first $50. They have a promotion, where if you create a profile with a referral link like mine, you will get $50 if you buy 50 MCO and stake it (by staking I mean letting Crypto.com hold your 50 MCO for 180 days, but you would get their Crypto VISA card, that offers 2-5% cashback in form of MCO).
Each month you can earn $5 by simply trading CRO Coins with your friends, I started paying back in CRO whenever we go for lunch and I do not have cash. They also started paying me back in CRO, so for every transaction, you get 5% back, last month I have made $5 with this simple feature. If you live in the US or Philippines, you get 2-5 % cashback on all your shopping in MCO. You also receive cashback if you shop online in shops that accept Crypto.com pay. Keep in mind you cannot use the Crypto.com referral bonus money until you stake 50 MCO and select at least the Ruby Crypto Card.
Bellow, you can see the bonuses that I have gotten from Crypto.com .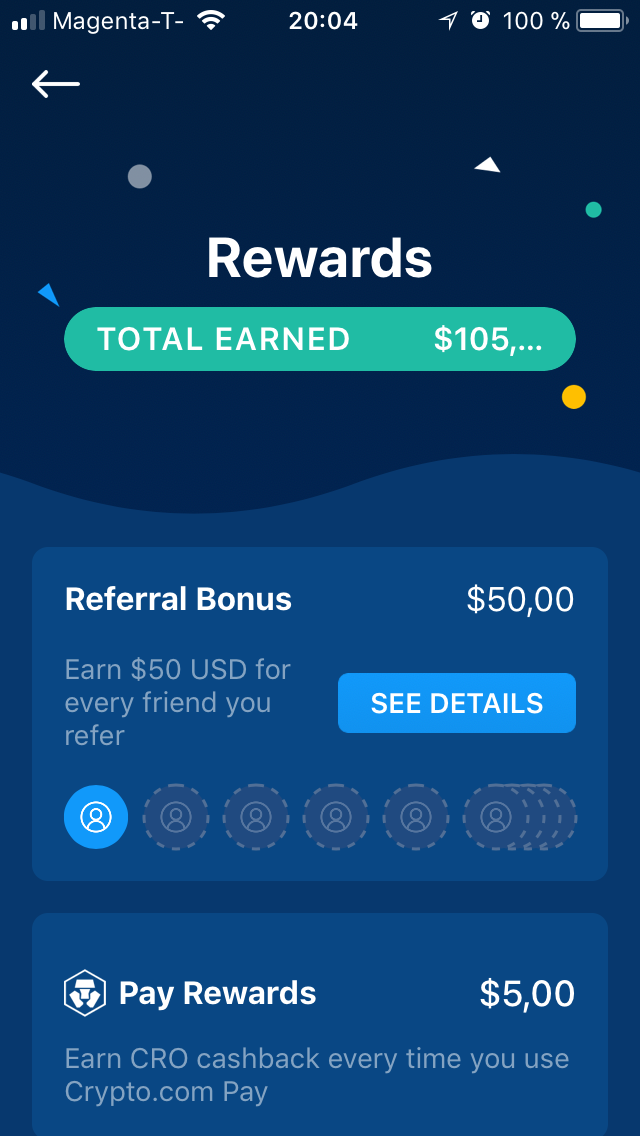 The table ilustrates quickly all Crypto.com bonuses that you can recieve for now.
| Bonus | Amount |
| --- | --- |
| Sign Up via Referral link | $50 Once |
| Monthly Trading With A Friend | up $5 per Month |
| Referring A Friend | $50 per Friend |
| Crypto Earn | Up to 18%, but they also have a fee of 9% on everything you earn |
| Crypto Cashback with Crypto Card | from 1% to 5% Cashback depending on the Card you Select |
I have currently earned $105 for creating a Crypto.com account with a referal link, trading CRO-s with a friend and referring that one friend. Right now it is not possible to recieve the 1% to 5% cashback in the EU. According to the Crypto.com facebook page they have recieved the green light for the introduciton of the MCO VISA card to the European market. They will start with the UK and with the investors that have staked large amounts of MCOs. You can read a bit more about Crypto.com here.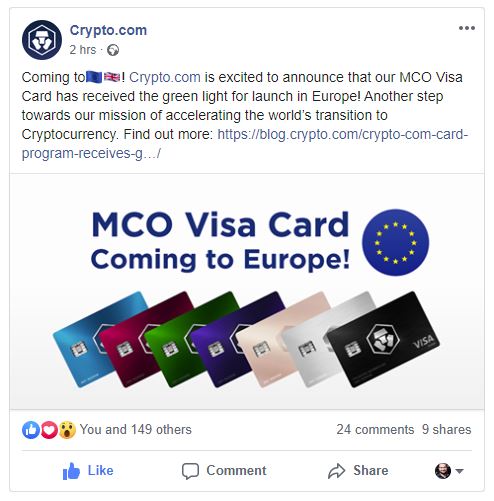 In order to get access to the $50 referral bonus click Crypto.com
<
---
Disclaimer:
This is not financial advice.
I am not a financial advisor.
The intention of the post is just to share my experiences.
eToro Disclaimer
: "66% of Retail CFD Accounts Lose Money
Join
celsius
Network using my referral code 192188355b when signing up and earn $20 in BTC with your first transfer of $200 or more!